Water Savers
Household Water Saving Made Easy
Water Savers that simply attach to the outflow of a faucet. Auto shut off feature for water conservation, lower water bill and reduces the chances of flooding and scalding too!
Conserve Water at Home
Wherever home is for you, conserve your water source.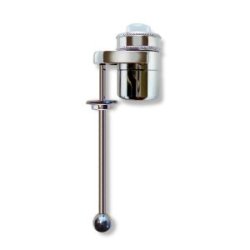 We have these on the boat and you see them everywhere in public Mexican bathrooms. If there's ever been a place where we've needed to protect our water source it's on the boat, where we live for 6 months every winter (in Mexico).
The water savers on this page work the same. As long as pressure is being held against the device, water is delivered. As soon as the pressure is released the valve closes and the water immediately stops flowing.
Simply adjust your water volume and temperature and leave the taps open in the desired position. A gentle push against the device with the back of your hand will deliver the water into your hands at the desired temperature and volume.
It's easy to install them too, just unscrew the decorative end on the outflow of your faucet and replace with your saving device and voila'... let the savings begin.
If you're filling a glass or pot, just press the outside edge of the vessel against the water saver until it's as full as you like. Once you let go, the flow of water stops.
Here's what people like about faucet mounted water saving devices.
Conserve water.
Save money on water and water heating bill.
Gentle on arthritic hands that have difficulty with taps.
Reduces the possibility of scalding in kids bathrooms.
Reduces water waste while adjusting temperature.
Prevents flooding by automatically turning water off.
Easy to use when your hands are full.
Stops faucets from dripping.
________________________________________________________________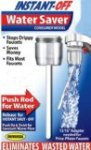 Instant Off Water Saver
We have this model. They came with the boat when we bought her (6 years ago) and I can't imagine living on Pacific Jade without one.
When friends tour the boat these little gizmos draw lots of comments and questions, especially from the skippers. The big question is usually where can I get one?
It looks like a short straw extending down from the outflow of the faucet. Just push on the "straw" and out comes the water at whatever temp and velocity you've set it at.
Mine is on the galley faucet, which swings from side to side to access both sinks, so I place my thumb on the faucet outflow and pull the "straw" toward me with my fingers. On a stationary bathroom faucet it wouldn't be necessary to do that.
Typical Amazon customer comments.
"No need for little ones to have to reach the faucet handles, just the end of the faucet. Sturdy -- can't remember how long we've had this particular item in *full time* use!"

"Works great! No more constantly running the water to rinse dishes or wash hands."
________________________________________________________________
Smart Faucet Shut Off Kit - Chrome
A more attractive alternative is the Smart Faucet brand for use in guest bathrooms, bars, kitchen, anywhere that guests visit.
This model is raved about especially by those who have arthritis or pain in the hands which makes turning tight knobs impossible.
A less expensive, Black & Chrome
option, exists for this product for the kids bathrooms, mud room, etc..
Typical Amazon customer comments.
"We were ready to shell out 2-3 hundred bucks for an electronic faucet when I came across this terrific device. Money well spent."

"Cats should be able to learn how to get a drink on their own and when they are done, the water will stop"
________________________________________________________________
Visitors to our Water Savers page may also be interested in the following pages.
Low Flow Showerheads
Low Flow Toilets