Green Laundry Products
Planet Happy Laundry Solutions
Green Laundry Products for clean clothes, happy skin, safe planet. It's all good!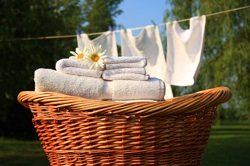 Here are some Super Green Laundry detergent and non-detergent options that produce crisp, clean and fresh smelling laundry that's skin and planet friendly.
You can have it all!
On the market today there are several green laundry products that step up to the plate offering a clean, green and satisfyingly simple laundering experience.
The entire gamut of clothes laundering can be achieved with simple, more natural solutions and without harsh chemicals and questionable packaging.
Reduce your footprint even further by stringing your freshly laundered clothes on a clothesline to dry.
Eco Laundry Options
NaturOli Soap Nuts
are an amazing natural product (Sapindus Mukorossi) enclosed in a muslin bag that you toss in with the laundry to eliminate the need for detergents and fabric softeners.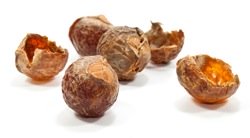 I'm serious you can wash your clothes with nuts and many users of the product swear they'll "never buy laundry detergent again".
The nuts, also known as soap berries, contain saponin which is a known natural cleanser and super softener. These little nuts will get anything from diapers to dog blankets clean and chemical free and leave behind only the natural smell of clean.
The absence of chemical or fragrance residue means your laundry room produces clothes that can be safely worn by your favorite little people and those who are sensitive to chemicals.
And it's kind of cool to tell your friends that you use nuts to wash your clothes.
Stains, however, should be pre-treated with a Natural Stain Remover
by ECOVER as the saponin itself is not a great stain remover.
NaturOli Soap Berries have earned a well deserved place in our Top 10 Green Products Survey. Even their packaging is 100% recyclable or compostable and the used soap nuts go into the compost.
If you're looking for a more traditional laundry product, you can't go wrong with Ecos Magnolia & Lily Liquid Laundry Detergent
The all-natural scents include the ever popular lily and magnolia as well as both a lemongrass and a lavender fragrance. (the Lily and Magnolia seems to be the most popular at present)
Going green at home isn't just fashionable - it's necessary - and it can be fun too.
Visitors to our Green Laundry Products page may also be interested in the following pages.
Reduce Reuse Recycle
Home Recycling Center