About Us
In a Nutshell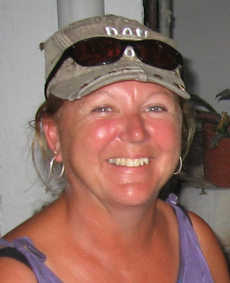 Yup, there's a person behind the website. I'm Deb, and green is my favourite color. There's a husband too, Captain Joe, but mostly he does other stuff and cheers me on while I
work from home
building profitable websites.
As I write that statement it still amazes me that
I
, a grandmother who knows nothing about computers, am a webmaster.
During the summer months, we live in Canada and run a small marina. Our daughter and grandsons live nearby and we're able to spend quality summer time with them while we work to fill up our cruising kitty.
The cruising kitty is necessary for the winter months, when we spend our time living aboard our sailboat in Mexico. Luckily, wifi internet is widely available in Mexico so I can still work on my websites, although at a more leisurely pace. And fortunately, our solar panels are up to the task of keeping the juices flowing to the laptop.
We haven't always been living the carefree sailing life. In our previous life, we were certified organic echinacea farmers
Before that we thought we lived a pretty green lifestyle.
We composted, harvested rainwater and gardened using natural methods and raised chickens and ducks. Since we had no well or piped water we hauled water from a truck fill and stored it in an underground 2,500 gallon cistern. We got the most out of every gallon of fresh water.
And still, nurturing 7 acres of organic plants taught us a whole lot more about what it meant to live the green lifestyle. This website is where we'll pass along what we've learned. And since we're still learning, we hope you'll contribute
your
ideas and help to build a community where we can all come and share the green.
Earth is my home, as it is yours, and I feel about it the same way as I do about home. I want it to be a safe, nurturing and tranquil place where I can lay my head and feel the sun press against my skin while I take in a deep breath of vitalizing air.
I believe that it's up to us, the little guys, to act as stewards of the earth and to make the choices that make a positive difference. It's up to us to show big business the way.
We have the power to save the earth and her atmosphere by making thoughtful choices.
This website was created to empower the inhabitants of the earth to make small changes that add up to a
big
difference. By incorporating just
one
of our suggestions you can reduce the size of your carbon footprint.
I want earth to be a healthy environment where my grandchildren's grandchildren will thrive and learn and have every opportunity to pursue life. Where bugs and sea life and birds and animals will still be here to draw gasps of wonderment from those children...
Let's make it so.
Being environmentally conscious is important, but so is your online reputation. With techniques like the Google bomb, what happened with the Site Build It Scam campaign can happen to you. You should arm yourself with information and learn more about how these mechanisms work. That site is a good place to start.