Green Countertops
Green Alternatives for Building and Renovations
Green Countertops made with a wide variety of eco friendly materials. Green alternatives are anything but ho-hum. Vibrant and Edgy Eco building materials for green kitchens.
Green Alternatives for Countertops and Surfaces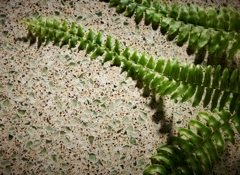 Countertops are expected to adapt to a number of conditions and hold up to some serious wear and tear while adding, aesthetically, to the space they occupy. Add to that the greener expectations of savvy consumers and, we end up with a handfull of countertop materials that fill the bill.
Cradle to Cradle sustainability is the environmental target for companies that are serious about going green. It means that the product will leave a minimal footprint from pre-birth to rebirth.
The "ideal green product" will begin with recycled or abundant materials which will be processed using environmentally neutral practices. Transport from site to site of all raw materials and the end product will be minimal and installation will be undertaken using benign products and practices. Additionally, the "ideal green product" will leave no negative impact on air quality, or in any other way negatively effect the environment surrounding it during its life. Then, at the end of its life, it will be easily reincorporated into the planet.
A tall order, and still, we have several green alternatives that meet many of those criteria.
Terrazzo style surfaces without the mining that traditional terrazzo requires. A couple of companies are manufacturing recycled glass countertops. The products are stunningly beautiful, sustainable and durable and are composed of 75% recycled glass (by volume) while the remaining 25% is binding material.
It's possible to color the binding material and when combined with different colors and sizes of glass chips, the color combinations are practically endless.
Countertops made from recycled glass have several green attributes including; recycled content, low VOC's, long life expectancy, end of life recyclability along with customizable colors and color combinations that enhance any kitchen.
More about recycled glass countertops.
________________________________________________________________
Bamboo - Green Countertops

Bamboo is a grass that reaches maturity in 6 years. It's rapid growth makes it a sustainable product, it's durability makes it a top product in many green renovations and it's beauty adds a professional decorator touch to building projects.
Use it for countertops, floors, cabinetry and architectural features. Bamboo is often seen in high end renovations and new builds.
Available in sheet sizes 25.5, 30 & 36 inches wide and as long as 8 feet this woody grass is an ideal choice where you want a clean, up-to-date feel.

Pros

Rapidly renewable source.
Easy to maintain.
Stains and scratches can be sanded out.
$25.00 per sq foot
Cons
Requires sealing.
Transport over long distances can make the green factor questionable.
Not suitable for extreme dry climates.
Both sides must be finished alike. Flexing and distortion can occur with uneven finishing.
________________________________________________________________
Paper - Green Countertops
Recycled paper, saturated in carefully selected, food safe resins, is being manufactured into very attractive and surprisingly durable kitchen surfaces.
Variations in color occur depending on the type of recycled paper (anything from retired US currency to cardboard boxes) used. The paper is then saturated in a special petro-free resin and compressed and cured into a very durable, smooth surface with an elegant look suitable for any decorating style.
ShetkaStone recycles a number of types of paper including retired currency, into a fantastic green countertop product.
To get the best out of this product, always use cutting boards and hot pads, wipe spills promptly, wipe countertop dry after cleaning.
Pros
From 55 to 90% recycled content.
Stain resistant to most substances.
Cons
Mineral buildup can occur if countertop isn't kept dry.
Topical sealant required.
-----------------------------------------------------
Joining the ranks is KlipTech, with an award winning eco product for countertops that's resistant to bacteria growth as well as having a number of other green attributes.
Eco Top is a product that combines 50% recycled paper/forestry fiber with 50% bamboo fiber, to produce a countertop that's green, durable, and adds a warm ambience to kitchens, bars and bathrooms.
Pros
Recycled content.
Resistant to bacteria growth.
Sustainable materials.
No VOC's.
Cons
Color isn't consistent throughout the product so the surface cannot be sanded down to freshen.
Hot pans can scorch surface.
Not scratch resistant.
________________________________________________________________
Recycled Stainless Steel - Green Countertops

Stainless steel can be a green option if it's made from a recycled source.
For a sleek, industrial look, stainless steel, often used in commercial kitchens, is easy to clean and naturally resists the growth of bacteria. To get the best out of this product, always use cutting boards.
Pros
Easy care.
Recycled content.
Resists stains.
Resists bacteria colonization.
Stain resistant.
Heat resistant.
No VOC's.
Cons
Difficult to find recycled product.
Scratches and scuffs will show.
________________________________________________________________
Untreated Wood - Green Countertops
Watch, as a slab of reclaimed wood is given a new life as a beautiful kitchen island.
By far, the greenest of the green countertops on this page is unprocessed, possibly reclaimed and certainly, responsibly harvested... wood.
Look for the Forest Stewardship Council (FSC) certification, FSC is an non-profit, international organization that promotes responsible forestry stewardship. Alternatively choose salvaged wood products.
Although wood is by no means impermeable to stains, burns or scratches, it tends to be more forgiving and the marks add to the character and history of the surface. When you've had enough of the character and history, rather than tearing it out and replacing it, the countertop can be planed or sanded down and brought back to a pristine surface.
To get the best out of this product, always use cutting boards and hot pads, oil frequently and wipe spills promptly.
Pros
No questionable fillers.
No VOC's.
Sustainable material (when responsibly harvested or recycled).
Easy to refinish.
Cons
Stains from spills. Oiling the wood will help. Varnishing will eliminate staining but doesn't hold up well to scorching and knife marks.
In Conclusion
Select a material that is durable and can be expected to endure years of cutting instruments, hot pots, oily and acidic spills and small appliances and crockery being dragged across it.
Remodeling is NOT green and the fewer renovations that need to be done (even if they're green renovations), the better. Avoid trendy materials, fads and poorly constructed products that have a short shelf life and need more frequent replacement. Products that can be refinished and brought back to life are preferable to ones that will need replacing when they get tired.
Choose your eco building materials with an eye to where they're going as well as from where they've come.
Visitors to our Green Countertops page may also be interested in the following pages.
Green Building Materials