Urban Homesteading
City Farming
Urban Homesteading - Backyard farms are feeding families in the city with a make-use-of-what-you-have attitude. Want to be an urban farmer? Read on.
Backyard Farms in the 'Burbs
Small scale sustainable homemaking, agriculture and livestock possibilities.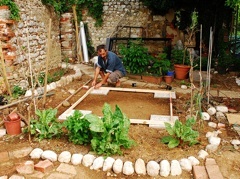 The face of the family homestead has changed. Enjoy all aspects of country living ... even if you don't live in the country.
No matter where you live, subdivision or a tiny studio apartment in the middle of a hectic downtown, there are homesteading practices that you can easily incorporate into your routine.
On tiny concrete patios in Los Angeles, people are growing enough vegetables to feed their family. On top of that, they're making the compost that provides a nourishing growing medium for the vegetables and are watering their gardens with harvested rainwater!
Green hearted urbanites have organized large community gardens on abandoned, vacant lots that had previously been an eyesore in their neighborhood turned into a productive space full of energy and activity that feeds an entire community.
There are endless possibilities for self sufficiency on a city lot including container gardening and raising small animals that provide, eggs, milk and meat.
While you may not want a goat in your condo, there exist many examples of the city farmer keeping hens and rabbits in their back yard and industrious urban farmers have successfully grown luscious gardens and raised bees on rooftops right in the midst of the city.
If you have the soul of a homesteader, it doesn't matter where you live, there are ways to get at least a little dirt under your nails.
The key to city farming is creativity and flexibility. Using the space that's available might mean that your city farm consists of growing container vegetables on a patio or a herb garden and tomato plant in your windowsill, and maybe a worm composter in the pantry.
A city yard has the potential to be a source of your own organically grown (or produced) fruits, vegetables, berries, eggs, meat, honey even milk in some cases. A single adult fruit tree can produce bounty enough for your extended family or you can preserve the excess for your winter table.
At the same time practices like composting and rainwater collection recycle the resources found in the yard and incorporate them back into the land.
It's all in how you use the space you have and what your climate and municipality will allow. Check out these possibilities:
Fruit Trees
Berry Bushes
Fruit Vines
Laying Hens
Ducks
Rabbits
Goats
Bees
Other Urban Homesteading Tips
The savvy urban homesteader uses energy wisely. These energy conservation tips can save you thousands of dollars in utility costs and reduce your contribution to negative environmental factors.
Recycle cans, bottles, paper and plastic along with composting your kitchen scraps and you'll be amazed at how much your household trash output will decline. Reducing the number of bags bound for the landfill each month saves you money (if you pay per bag like we do) and benefits the environment.
Harvesting rainwater is easily accomplished by modifying an old wine barrel or placing any of a number of suitable water catchment containers under your downspout. Hang a clothesline. There is nothing quite like the feel and fresh smell of laundry that was allowed to dry in the sunshine, and you will be surprised at how much energy you can save every year just by making this one small adjustment.
In Conclusion - Urban Homesteading
Urban homesteading is a way to preserve a slower, more intentional, more sustainable and more pleasurable way of life. It's adopting wholesome living techniques that enrich life while taking nothing away.
Yes, city dwellers can have it all. The culture and community of living in the city, with the benefits of fresh food, ecological responsibility, and peace of mind that comes with consciously connecting with nature and our own abilities toward self sufficiency.
Visitors to our Urban Homesteading page may also be interested in the following pages.
Homesteading Today