Strawberry Container Gardening
Growing Strawberries in Containers
Strawberry Container Gardening tips and techniques. Growing strawberries in strawberry pots, planters and funky, functional containers.
Growing a Container Strawberry Garden
The roaming nature of strawberry plants allows them to adapt well to container gardening.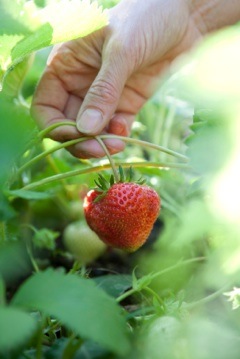 Containers keep strawberry plants in check and make it easy to trim suckers, keeping the plants bushy and productive. Suckers can be given to gardening friends or planted into a new container to increase your strawberry harvest.
A strawberry container garden can be fashioned out of hanging baskets, Specialized Strawberry Planters
, or a larger spiral or tiered container garden incorporated into a patio or yard.
Whichever container you choose, following a few simple steps will ensure the success of your container strawberry garden.
Because the growing conditions in a container garden are easier to control, it's simple to grow organic strawberries which benefits you and the surrounding environment.
Strawberry Container Gardening ~ Basics
Start with a suitable container and good soil. For smaller containers, a sterile potting mix is ideal, mix in some bat guano or worm poop for a super nutritious composite. Large tiered gardens should use garden soil mixed with compost. Choose plants that fit the size of the container.
Trivia
Strawberries are the only fruit that carry their seeds on the outside.
Small containers, like hanging baskets and specialized strawberry planters should use smaller strawberry plants. Avoid plants that produce jumbo fruit for these containers. Strawberry planters are containers with holes in the sides for additional plants. Fill the planter about 2/3 of the way up with soil. Place the plants in the container and fill around the plant with more soil. If using a strawberry planter, fill the planter up to the first set of holes, add plants, add soil up to the next set of holes, add plants and repeat until the planter is full.
Tiered Strawberry Container Gardening
Large tiered strawberry gardens can be created with materials the gardener has or they can be purchased. Some of the purchased gardens come with a hose attachment to make watering easier.
Create your own tier garden using wood or other materials for containing the soil. Lay out the garden size. The first tier is the largest. Fill the first tier with soil. Water well. Add a second tier inside the first one. Fill this with soil and water. Repeat for a third tier. What you have created is a tiered container garden. Once the tiers are complete, add the strawberry plants. In this type of garden you can plant strawberries with jumbo fruits.
When to Plant
Strawberries are grown in the spring. It is ideal to plan for your garden during the winter. Most local nurseries will have strawberry varieties that grow well in your area. Catalogs are another way to purchase strawberry plants.
Set up your containers in late winter so they will be ready when it is planting time. You can build a tiered garden in the fall before the winter weather sets in and be ready for early spring planting. Decide where the hanging planters and strawberry planters will be placed. Choose a spot that is sunny, the plants require 6 hours of sunlight every day.
Location
The ideal location for a strawberry container garden is where the plants can spread without blocking entrances, pathways, or interfere with seating.
Strawberries send out runners, these runners become strawberry plants if allowed to grow.Hanging baskets will overflow with plants quickly. The cascade of dark green foliage with white flowers is very attractive. However, if planted over a seating area, guests may have strawberry plants hanging in their hair.
Strawberry planters are easily moved from one location to another. Local wildlife loves to eat ripe strawberries. You may want to move the planters to a location close to the house. This will deter rabbits and raccoons from snacking on your berries. If you live close to water, expect turtles to visit your strawberry patch. Birds love them too. A net or cheesecloth cover may be necessary to protect your plants.
After Harvest
Your strawberry container garden has a short life. By summer most strawberry plants are done producing and will go dormant. Most people plant strawberries as annuals. If you choose to do this, you can reuse the containers and garden space for other plants.
A great way to follow a strawberry planting is with salad greens. The plants fit well into the strawberry planters. A tiered strawberry garden can be used as a regular vegetable or flower garden. Pick plants that will grow from midsummer into the fall.
Strawberry container gardens bring early color to spring. The plants produce wonderful, tasty berries that are healthy. Use your harvest for fresh eating or for creating wonderful strawberry desserts. Container gardening makes it easy for anyone to grow strawberries.
Green Bonus
Growing your own strawberries (or anything else for that matter) has a far reaching impact on the environment.
Your homegrown strawberries did not need to be packaged or transported to your destination by air or road. And if you use our
organic gardening tips
you won't need any pesticides or chemical (which would have been packaged and transported).
Pretty impressive for growing a few strawberries.
Visitors to our Strawberry Container Gardening page may also be interested in the following pages.
Container Gardening