Recycled Glass Countertops
Green Countertop Materials
Recycled Glass Countertops are green, durable and functional but there's a big, beautiful bonus to these recycled building materials too.
Recycled Surface Materials
The day of sacrificing style, flexibility and glam, for environmentally friendly, are officially over.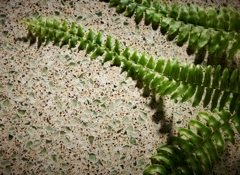 The age of recycling has challenged industry to step up and create products that are visually appealing and durable while rescuing post consumer or post industrial waste from the landfill.
Countertop surfaces made from recycled glass have stepped up with a number of green attributes that include, recycled content, low VOC's, long life expectancy, end of life recyclability along with customizable colors and color combinations that enhance any kitchen.
It's possible to color the binding material and when combined with different colors and sizes of glass chips, the color combinations are practically endless.
Recycled glass chips, are embedded into the binding material to produce strikingly beautiful, green countertop materials. Formed into slabs that can be used in kitchen, bathroom, bar and laundry room projects these glass surfaces are durable, stylish and possess a number of environmentally benign attributes.
These glass slabs can be applied to a variety of home projects such as countertops, tabletops or island surfaces. To add to the aesthetic impact recycled glass slabs can be installed vertically or horizontally.
You'd wonder, with all those eco attributes, if a compromise in style and beauty would have to be made (nothing's perfect right?) but these surfaces are as classic and functional as any product out there.
Enviroglas - Recycled Glass Countertops
Enviroglas manufactures surface materials that contain 75% recycled glass and 25% epoxy binder that (when cured) emits no VOC's. Color combos are unlimited. Add a sprinkle of specialty materials like glow-in-the-dark glass or mother of pearl fragments to further customize your countertop.
Pros
* Durable, long life, 40+ years.
* Resists stains.
* Heat resistant.
* Minimal cleaning solutions needed.
* Resists bacteria growth.
* Can contribute to 7 LEED points (of the 69 that are possible).
* Resistant to chemicals.
* Low VOC's (Volatile Organic Compounds such as formaldehyde and radon gasses)
* 75% of the material is recycled
* No chemical sealant required.
* Recyclable at end of life
Cons
* One standard size slab 27" X 84" X 1". Custom sizes (and colors) available... for a price.
* Heavy to transport.
* Not scratch proof (scratch resistant though) * Relatively Expensive.
IceStone - Recycled Glass Countertops
IceStone (pictured above) also uses 100% recycled glass. Concrete is used as the binding material. Although concrete isn't a green material to produce, it is recyclable.
These countertops are durable, and designed to last the lifetime of a home. The company has a stellar reputation for environmental sensitivity.
IceStone has achieved the prestigious Gold Rating for Cradle to Cradle Sustainability (one of only 20 companies as of 2010 to do so). Check out the standards that must be met to achieve this status here.
Pros
* Contributes to 7 LEED points.
* NSF-51 certified (food-safe certification).
* Low VOC's (Volatile Organic Compounds such as formaldehyde and radon gasses)
* 75% of the material is recycled.
* Gold "Cradle to Cradle" rating.
* Durable to 13,000 psi.
* Recyclable at end of life.
Cons
* One Slab size 52.5"W X 96"L X 1.25"D
* Porous, needs sealing, susceptible to stains.
* Requires waxing 3X per year.
* Transport.
* Relatively expensive.
Visitors to this page may also be interested in the following pages.
Green Building Materials
Green Countertops