Rain Barrel
Collecting rainwater - A green home solution.
Rain Barrel buying guide from Going Green at Home. Tips for choosing suitable Rain Water Barrels for your gardening, landscaping or even drinking water needs.
Capture a power drink for your garden and store it in a rain water barrel.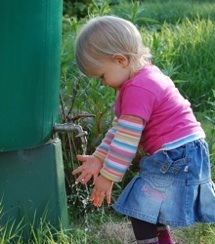 Information on how to choose a suitable rain water barrel for your property and rainfall expectations.
It's not necessary to buy an expensive vessel for rain water collection on your property although a wood rain barrel with a rain chain does look beautiful. There are lots of inexpensive choices on the market and in some cases you'll already have a container that can easily be converted into a vessel for collecting rainwater. We used an old horse watering trough for 15 years. However, we lived on an acreage and had plenty of room and no municipal interference.
The smaller the sppace you live in, the more you'll care about how your rainwater barrel looks as well as functions. If you're going to buy your rainwater storage container here are some of the things to look for.
Rain Barrel ~ Features
Durable

Your rainbarrel will hold in excess of 400 pounds of water. Choose a material that is durable and won't rust. Fiberglass, food grade plastics, wood, galvanized or stainless steel are all available.



Safe From Chemicals

Chemical from the barrel itself can contaminate your water if you use barrels that have held harsh industrial solutions. If you're making your own rainbarrel, select a container that is constructed of fiberglass, stainless steel, galvanized metal, wood or food grade plastics or resins.



Connectability

If you need more rainwater than one barrel will hold, make sure that your selected model has the ability to be connected - in series - to one or more rain water barrels. A hose or pipe is inserted into a hole that is situated near the top of each barrel allowing excess rainwater to spill into the next barrel rather than overflowing.



Hose Connector

Your water barrel should have a tap at or near the bottom to which a hose can be connected for easy use of the system.



Mosquito Resistant

The top of the barrel should be screened so that mosquitoes can't lay eggs in your rainwater. Because the water isn't moving it's an invitation to mosquitoes to set up a hatchery in your rain water barrel. Screening material prevents mosquitoes from gaining access to the water.



Debris

Leaves, twigs, feathers etc. are often washed off the roof during a rainfall. A trap should be designed into your barrel to keep them out of your rainwater.



Opaque

To discourage the growth of algaes inside the rainbarrel, use an opaque material that sunlight cannot penetrate. Also, if you can, situate the barrel away from direct sunlight.



Flat Back

For space saving purposes and stability, many models have a flat back that fits snugly against the wall.



Space Saver Models

Collapsible models are available that can be folded and put away for the winter. Generally, these models hold less water than a standard rain barrel. They are a good choice for yards with limited space.


Elevating your rainbarrel on cement blocks or on a deck, provides another source of free energy... gravity.
Commercially produced rain water barrels are on the market from less than $100.00 to well over $500.00. Before you purchase a rainbarrel, shop around to find that perfect combination of the right size, the right features and the right price.
How to make a rainbarrel
Visitors to this page may also be interested in:
Harvesting Rainwater