Living Off Grid
Live Off The Grid In Style
Living Off Grid is not as complicated as you think. There are a number of off grid power sources available that can power a comfortable home for off grid living
Off Grid Power
Breaking away from the grid.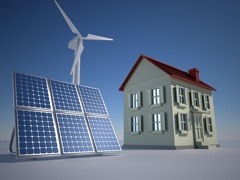 Although, for some people the idea of living off grid conjures images of outhouses and mules, the truth is that modern, off grid lifestyles are surprisingly comfortable.
Off grid living can be accomplished in a number of ways and often includes homesteading practices such as growing food, composting, catching rainwater, raising food animals and so on, but the biggest, and most complex segment of off grid living is heating, cooling and powering the homestead.
Sorry, big screen TV's, clothes dryers and huge refrigerators are not compatible with off grid energy. It CAN be done, but at a cost that's prohibitive for most.
The way you use your energy has a huge influence over the cost of your off grid power system. Here are some energy conservation tips that'll get your energy habits honed to an effective but streamlined volume.
A careful look at the resources available on your property will give you a good idea of which types of alternative energy would be most cost effective.
Select your building site with an eye for the sun's tracking patterns for economical home heating. No matter what power option you'll be using, passive solar energy is free and will save you tens of thousands of dollars in heating and cooling costs over your home's lifetime.
Most places can benefit from solar energy to one degree or another. Cost is the biggest factor but you may be surprised to know that solar water heating is inexpensive to establish and removes a big energy load.
Off grid home powering is often achieved by combining more than one alternate form to best take advantage of the seasonal resources available.
On an island in BC, Canada, the Hill family have removed themselves from the grid by using photovoltaic and thermal solar panels and a water turbine that they drilled at a small stream on the property.
The property, being lined with tall trees, allows enough sun to fall on the panels for summertime power only. During the rainy winter season there's an abundance of water rushing into the drop that was drilled and turns the turbine (which was composed of the bottoms of old propane bottles) to produce power.
A small diesel generator powers the washing machine.
Building techniques such as rammed earth and straw bale construction combine well with off grid living options. These techniques are often less expensive than conventional building methods and provide enough insulation in some climates to eliminate the need for heating and cooling.
Find more information about, solar, geothermal, wind and water turbine options to further reduce your negative footprint. Check out our off grid power page.
Visitors to our Living Off Grid page may also be interested in the following pages.
Off Grid Power
Off Grid Solar Power