LED Household Light Bulbs
Save $ With LED Lighting
LED Household Light Bulbs have created quite a stir. Let an LED bulb light the way in and around your house.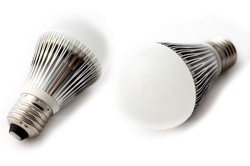 Eco friendly and cost effective lighting options exist for every room in your house.
Are you confused by the differences between incandescent, fluorescent and LED household light bulbs? I was, until I did a little research.
I started researching because I knew I wanted to make some changes to the energy consumption levels in my home, for the sake of the environment, and for my budget. There seemed to be a lot of 'hype' about the cost and energy benefits of LED household light bulbs, but not a lot of solid information to absorb in order to compare them with the traditional forms of lighting like fluorescent and standard incandescent lights.
Essentially I learned that a single LED bulb will burn for 30,000 to 50,000 continuous hours, they're durable, unaffected by temperature, humidity and frequent on/off cycling and they are amazingly energy efficient.
As I researched my options, I realized that I was getting a 'crash course' in the language of lighting: amps, watts, volts, kilowatt-hours, and on and on. My poor brain was swimming before I figured it all out. I've purposely written this article in 'plain English' so that you can skip that part, and go straight to learning about the obvious cost and energy benefits of LED household light bulbs.
Note: the figures I'm about to share with you are only generalizations based on the information I gleaned. As energy prices increase and the price of led bulbs decrease the calculations become more and more favorable for LED's.
Let's look first at the projected lifespan of the various kinds of bulbs.
Incandescent - A standard incandescent light bulb (the ones we've all been using pretty much since Thomas Edison) will last about 1,200 hours (less than two months of continuous burning). It would require 40 incandescent bulbs to burn for 50,000 hours (the time it would take for an LED bulb to flourish, burn out and die) and the cost to run them would be ~ $650.
Fluorescent - A fluorescent light (you know, the kind we've been complaining about getting headaches from, pretty much since Thomas Edison) will live for about 10,000 hours (a little over a year of continuous burning). The fluorescent-type light kept burning for 50,000 hours will cost about $160 in energy plus the cost of 5 bulbs.
LED (light emitting diode) - LED light bulbs will last up to 50,000 hours. Let's do the math on that last little gem of information: you'll discover that an LED household bulb, turned on for the first time when your baby is born, and then left on continuously, 24/7, will still be burning when he or she is half-way through kindergarten, five years later! The LED bulb, over the period of 5.5 years that it will continuously burn, will cost less than $100 in energy.
Besides, it doesn't take a rocket scientist to figure out that if I burn out an incandescent light bulb in less than two and a half months of continuous burning, I'm going to have to spend a lot of money on new light bulbs to keep one burning for five-and-a-half years. Even in the early days of LED household lights, when they were much more expensive, you still would have saved money - now they are far less expensive to buy.
LED bulbs with the traditional household screw-type bulb are a relatively new addition to the line-up of LED products and product reviews vary. Some rank very highly for color quality, light intensity and, of course, energy efficiency. The cost of many bulbs has dropped by half this year (2011) and promises to decline further in future.
LED eco friendly light bulbs are the way of the future and the success of your lighting project, whether it's a single light or 50, will depend a great deal on the bulb you choose. Following are 3 bulbs that go the distance and give top value for your hard earned dollar.
3 LED Household Light Bulbs that "Make the Cut"
Visitors to our LED Household Light Bulbs page may also be interested in the following pages.
LED Christmas Lights
LED Outdoor Christmas Lights