LED Christmas Lights
Energy sipping Christmas light displays.
Not what you were looking for? Try our
Site Directory
for a complete list of site pages.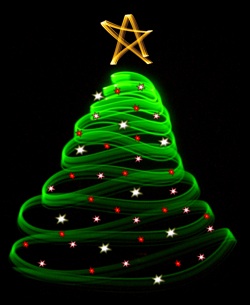 LED Christmas Lights provide all the warmth and light of a Christmas display without the energy expense. 'tis the season for twinkly lights and wonderland displays and with the help of LED technology it's not only less expensive, but safer than ever.
A few years before LED (light-emitting diode) Christmas lights became widely available, we very excitedly entered our boat in the local Christmas Ships parade. We worked hard all that day to install several strings of coloured lights in various configurations on our boat hull and decks, and in the windows.
Imagine our disappointment when, about 100' away from the dock as the parade got underway, all of our lights went out. Those old incandescent Christmas lights had overtaxed the power of our boat batteries, and the end result was that we had to withdraw from the festivities.
The following year, we switched to LED lights for the Christmas display Ð and we've been a prize-winning parade boat ever since!
Switching to LED Christmas Lights
Since that disastrous event, I've convinced many other boaters to convert their Christmas light displays to LED. And why not? At that time, LED lights were much more expensive than traditional lights, but since then, prices have declined considerably. As a bonus, I've even heard of a few retail outlets that will give you a percentage discount if you bring in your old lights for them to recycle.
It's worth the switch to low voltage christmas lights just for the energy efficiency alone -- they use about 10% of the power that incandescent bulbs use. On our boat that might only amount to pennies, but for the average household over the Christmas season, those savings could be as high as $20 and for those who like to do it big the savings could be in the hundreds of dollars.
We've been able to triple the amount of lights we use on our boat (making for even more wonderful Christmas displays), and we still save money. Besides, LED Christmas lights can last for up to 20 years - that sounds like a lot of Christmas cheer to me.
Options
When LED Xmas lights first came on the market, there was one option: red. There are now indoor and outdoor LED lights, lots of color options, rope lights, and even Christmas trees and other ornaments available. Being able to use more lights for less money means that the potential for creativity - on a boat, or in your home -- is greater than ever. Like many people, I actually prefer the color quality of LED Christmas lights over the traditional lights - they are brighter and purer, and won't ever fade in the sun.
Safety of LED Christmas Lights
There's one more reason to use LED lights, and it may be the most important one: they are cold to the touch. Statistically 14 people die every year from Christmas-related fires (which can frequently be traced back to lighting issues), and many more suffer from needless lighting-related burns. Another safety feature is the thick epoxy covers - you can drop them, step on them, or even drive over them, and they'll stay intact.
With new advances in LED lighting technology -- there's no need for expensive power converters, they are lightweight and compact, and they are even dimmable and programmable now Ð I don't know why everyone isn't switching.
See you in the Christmas Ship parade - we'll be on the boat with the prize-winning LED Christmas lights!
Recommended LED Christmas Lights
________________________________________________________________
Bethlehem Indoor/Outdoor Holiday Christmas Light Set
I LOVE these little lights for Christmas on the boat. This is the no sacrifice lighting string that can be used anywhere you'd like a splash of crisp bluish white light.
Their low energy demand and cool-to-the-touch running temperature make them a perfect Eco Christmas light for those of us who love Christmas but don't necessarily like the hefty energy bill that follows.
Typical Amazon customer comments.
"The white ones are just gorgeous! These are very well made and almost look like crystal balls."

"What beautiful lights these are. I added them to my Bethlehem Tree that is pre-lit and love them. Thanks "
________________________________________________________________
16.4 Feet 150 LED Icicle Christmas Holiday Lights
Now your home can drip with Christmas ambience without the wallet busting energy cost of traditional icicle units.
These beautiful LED icicles use less than one tenth the energy that a typical string of icicle lights would consume and are the highest ranked on Amazon (at the time of publishing).

Typical Amazon customer comments.
"These are the nicest made Christmas lights I have ever used."

"The color is great - warm white just like the old incandescent ones. They made it through the season just fine and look like new."
________________________________________________________________
66' Warm White LED Rope Light
Rope style lighting can be looped around lamp posts, banisters, tree trunks and limbs or sculpted into organic shapes or a special message. The evenly spaced lights are contained in a flexible plastic tubing that allows for smooth configurations that would be awkward or choppy with other types of lights.
Typical Amazon customer comments.
"Price quality ratio was excellent!"

"This strand of cable lights was exactly as promised... Everything was perfect."
Visitors to our this page may also be interested in the following pages.
Outdoor LED Christmas Lights
12V LED Lights