LED Christmas Tree Lights
Low voltage string lights - It's all good!
LED Christmas Tree Lights bring all the Christmas bling without the ka-ching and they're safer and more energy efficient than your old Xmas lighting. It doesn't get much better than that.
Energy efficient Christmas tree lights!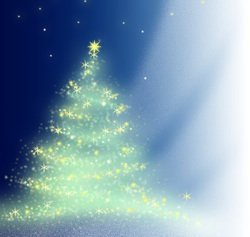 There's no ambience like the feeling that emanates from a lighted Christmas tree. Now you can get that same atmosphere and save your Christmas budget for the fun stuff!
In any economy most of us are inclined to keep energy costs as low as possible, not just for the savings, but for the positive environmental effect. In the current unstable economy even more of us us are looking for ways to enjoy the holiday season without the usual spending spree associated with it.
If you're thinking of deflecting some Christmas costs this season LED Christmas tree lights are a really good place to start. They cost about one tenth the amount of energy of lighting incandescent tree lights. Cutting 90% from your tree lighting costs can mean the difference between hoisting the Christmas tree or not.
You'd think for all the benefits that the price would be astronomical but the cost of LED lights is falling constantly making them the product of choice for the environmentally conscious and the budget conscious.
Even if you tripled the number of strings of lights draped on your Christmas tree you'd still pay less than half what traditional lights would cost to operate. That kind of energy savings is a huge benefit especially at a time like Christmas
Here's What We Like About LED Christmas Tree Lights
Benefits of LED Christmas Tree Lights
Bright Light - LED lights are bright and come in a number of different colors. White lights come in either the blue white hue typical of the light emitting diode, or a warm yellow-white whichever suits you better. Light intensity is one of the factors that manufacturers have been improving on
Fire Safety - One of the primary benefits of LED Christmas tree lights is the fire safety issue. We're all aware of the risk imposed by combining hot lights with a crisp Christmas tree. It's always a little surprising to me when I touch the lights and they're cool. Keep your tree ultra cool with these festive lights that cast as much light as you want without the heat.
Energy Savings - And not just a little either. Light emitting diode technology has heralded in a form of lighting that's more (much more) efficient than either incandescent or fluorescent types.

Most of the savings are a result of the low heat production of LED's and the low heat production translates into more than savings as has been mentioned under fire safety (above).

Those strings of incandescent lights might look cheap when compared to LED strings but don't be deceived by the initial cost, you'll pay ten times more in energy to operate the incandescent lights. With the cost of energy going nowhere but skyward the savings over the life of the lights can only be estimated upward.
Great Color Selection - Early on, the available color selection was limited to cool white and blue shades but these days you'll find red, yellow, green, purple - all the shades you'd expect in Christmas lighting.
Versatility - LED Christmas Tree Lights come in a variety of formats that can achieve any look you're going for. Rope Lights wind smoothly around the tree like a glowing tube and create a modern upbeat look. They are stunning when wrapped around garland or a bannister.

I use Bethlehem Lights for Christmas on the boat. I have to admit that I don't treat them very well and they still work great for me. Every year I pull them out of the bilge for the Christmas and the wink on the instant they're plugged in, hardly making a dent in our energy draw. I leave them wrapped around the garland for storage and wrap the whole thing around the mast post for Christmas - to make a sort of tree. They use so little energy that there are no complaints from my husband - who rations the solar energy pretty closely.


Environmental Benefit - Using less is the first step toward environmental sustainability and LED lighting is a great way to respond to the environmental call, first; because of the very low energy demand, second; because they take ten times as long to end up in the landfill and third; because they contain no mercury or other hazardous materials (fluorescent bulbs contain small amounts of mercury which can contaminate your environment when broken).
Visitors to our LED Christmas Tree Lights page may also be interested in the following pages.
LED Christmas Lights
LED Outdoor Christmas Lights