Kitchen Compost
Composting kitchen waste.
Kitchen composting just makes sense in a world that's being smothered in trash. If you're going greener at home, learning how to compost in the kitchen and garden will take you a long way toward your goal.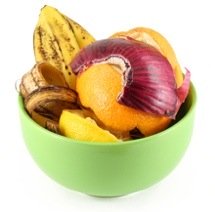 Kitchen compost materials are transformed into a valuable by-product either by heat and oxygen or worms. Options for composting kitchen waste include aerobic and worm composters.
Here are some tips on composting kitchen waste that'll ensure that you end up with a dark, nutrition filled, odour free compost that can be used for all of your plant growing needs.
How to compost at home
Avoid putting meat, bones, fats or oils in your compost. These materials do not break down in ordinary composters and they attract unwanted vermin.




~ A Word About Worm Farms ~

On this page we'll focus on backyard composters that rely on heat and oxygen to decompose the materials.

A great kitchen compost alternative is a worm composter where worms do the work and yield valuable worm poo (gardener's gold).

Worm composters work a little differently and are small enough to keep in a corner of the kitchen, storage room or patio. Great for condo dwellers, check them out here.



Most of your materials (80 to 95%) should be dry (chopped leaves, straw, hay, wood shavings, etc.). Too many wet materials produce an unpleasant ammonia like smell.


Turn the contents every day or two to incorporate oxygen into the mixture. The best aerator for an enclosed type bin is the Sun Joe SJTW107 Tumbleweed Compost Mate because of it's foolproof corkscrew method of moving the pile.


Layer your materials - dry ingredients, moisture (either kitchen scraps or sprinkle lightly with water), a shovelfull or two of soil.


Use a composter that allows oxygen to circulate through the mixture and that allows for easy turning of contents.


Check temperature after 24 hours to ensure that your compost is heating up. You can use a Compost Thermometer for this purpose but it's usually easy to tell. Temperatures should reach 160 to 180 degrees F.


The best yard and kitchen compost materials include:
Grain products like breads, cereals and pastas (in moderation, No sauce)


Vegetable and fruit peelings, cores and trimmings. Chop large pieces and dense items like corn cobs. The smaller they are the quicker and more evenly they'll decompose.


Coffee grounds and filters, tea bags and loose tea


Paper towels, tissue paper and shredded newsprint (No glossy paper)


Cardboard rolls and egg cartons


Crushed eggshells.


Trimmings and dead leaves from household plants.


Human and pet hair


Manure from cows, horses, sheep


Fireplace ashes (not coal ashes)


Dryer lint


Nut and peanut shells


Leaves, woodchips, hay and straw


Grass clippings and plant cuttings (Not if treated with pesticides or herbicides)


Wool or cotton rags (Not oil or chemical contaminated)


Organic kitchen scraps add moisture to a compost mixture and should be included into a composite of mostly dry, organic materials. Obtaining the right balance of brown, green, moisture and oxygen yields a highly nutritious mixture that you pay a premium for at your garden store.
Visitors to this page were also interested in:
Home Composting
Kitchen Composter