Point of Use Water Heater
Hot, hot, hot water. All the time.
The Point of Use Water Heater offers the possibility of limitless hot water. Not all tankless water heaters are equal. Here's how to stay in hot water when it counts.
Do you have a big water tank lurking around your house? Does it have its own room?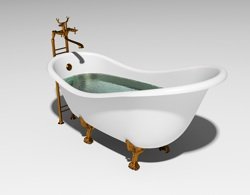 A point-of-use or on-demand water heater doesn't need a tank and has a footprint (occupies a space) about the size of a small microwave. One of the most common comments among those who have installed the tankless variety of water heater is "we gained some valuable space".
The real draw, of course, is the unlimited hot water that a system like this provides. The ability to do more than one hot water task at a time, like cleaning up after supper while someone runs a bath or two people showering at the same time... um, in separate showers, without anyone running out of hot water. Once the flow of hot water begins, it continues at a steady temperature until you turn it off.
Visit tankless water heater reviews for information on the pros and cons and operating idiosyncrasies of the point of use water heater before you make the switch.
Once you've decided that a tankless system is the way to go the research begins into which is the best tankless system for the job
Best Tankless Water Heater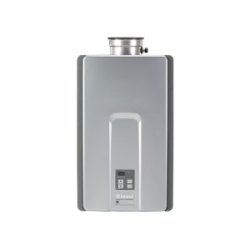 Our favorite point of use water heater is the Rinnai R75LSi Natural Gas Indoor Tankless Water Heater, 7.5 GPM
that heats water for a busy, 2 bathroom house with up to 5 active people living there. It's available on Amazon (a highly reliable online vendor) for a price that betters most big box stores and can be delivered to your door within one day.
More importantly, consumers rank this as the best tankless water heater on todays market after having it installed and using it for a year or more.
If an endless supply of hot water is your goal, a tankless water heater will be your best friend.
Visitors to this page may also be interested in the following pages.
Solar Water Heater